"Atami," is a famous hot-spring resort situated on the east coast of the Izu peninsula.
It is 50 minutes from Tokyo and 100 minutes from Nagoya by Shinkansen (bullet train).
Atami hot spring, which dates back approximately 1250 years, is of a very high quality and can count certain japanese celebrities among it's admirers.
Atami's temperate climate, coupled with the beautiful setting of the ocean and mountains, attracts visitors all year round.
A popular event that people identify Atami with is the famous fireworks display that is held throughout the year.
Watching the brilliant colors bloom in the night sky over Atami will be an experience that you will forever cherish in your memories.

Atami Korakuen Hotel is one of the largest hot-spring hotels in the Atami area.
Enjoyed by many, it features a large hot-spring bath that offers a panoramic view of the ocean.
By relaxing in this bath at early dawn, the guests are able to take in the magnificent view as the sun rises over the ocean.
The rooms offered (both Japanese and Western-style) have ocean-view rooms as well as rooms which provide a breathtaking view of Atami at night.
To satisfy your palate, we offer a Japanese-style multi-course dinner (Kaiseki) or a buffet made from our fresh seafood.
By taking advantage of our hotel amenities, such as main banquet hall, spa and souvenir shops, you will be able to enhance your stay in Atami without even having to leave the hotel.
The hotel is only 50 minutes from Tokyo and 100 minutes from Nagoya by Shinkansen (bullet train).
For your convenience, we also provide a shuttle bus service between the hotel and JR Atami station.
Come and stay at Atami Korakuen Hotel, and experience the wonders of a Japanese onsen (hot-spring) resort.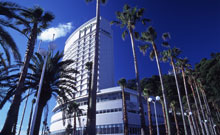 ATAMI KORAKUEN HOTEL
10-1, Wadahamaminami-cho,
Atami-shi, Shizuoka, Japan, 413-8626
TEL: 0557-82-0121
(International: +81-557-82-0121)
Reservation center: 0557-81-0041
(International: +81-557-81-0041)
Check In: 2:00 p.m.
Check Out: 11:00 a.m.
* 10 minutes from JR Atami Station by bus bound for Atami Korakuen
* 25 minutes by car from Ishibashi Interchange on the Seisho Bypass